Wondering how to get here?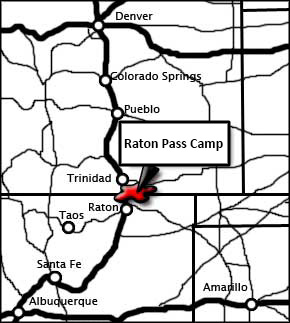 Raton Pass Camp is located at the summit of Raton Pass, where the I-25 crosses the state line between New Mexico and Colorado. We're on the east side of the highway at Exit 460.
When arriving from Colorado, start looking for Exit 460 (NM) shortly after Exit 2 (CO). Exit 460 is shared with the NM Port of Entry (Weigh Station) so follow the signs for all commercial vehicles. Once you exit the Interstate the exit ramp will "Y", bear right and follow the camp signs up and over the highway to the east side. At the Stop sign turn right, go about 100 yards, turn left and you'll be in our driveway.
When arriving from New Mexico, Exit 460 is fairly easy to spot just at the top of the pass. Once you exit, you'll see our entrance on the right.
Whether arriving from Colorado or New Mexico, passing an 18-wheeler towards the top will usually cause you to miss the exit. So stay to the right as you approach the summit. Those exits will sneak up on you. (PS: on the Google map below, we are located at the lower blue arrow on the east side of the Interstate. To get a bird's eye view of our RV park and campground, click on the Satellite button at the upper right of the map.)
Travel safe, and we can't wait to see you!